With the pandemic rendering our ability to gather unpredictable and inadvisable, we have decided to provide our avid readers with an online reading list with links to author biographies and discussions. This list was curated by the Library Foundation's Director of Programs Kunga Wangmo Upshaw and a few dedicated Book Discussion Group members Bonnie Alexander, Nancy Atlee, Lynn Coen, Carol Gaetano, Barbara Laube, Barbara Regosin and Christine Scheck.  Please use this list and connect with your fellow literati to have your own engaging discussions while being safe and staying healthy. We look forward to a time when we can all be together again. Happy Reading to you!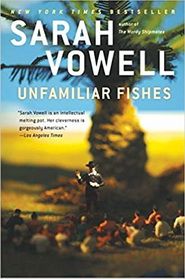 September
Unfamiliar Fishes by Sarah Vowell
Sarah Vowell's Unfamiliar Fishes looks at Hawaii—from the arrival of missionaries in 1820, to the coup d'état led by their sons in 1893. Overthrowing the Hawaiian queen, the events leading up to annexation feature a cast of beguiling, appalling, and tragic characters. Whalers who fire cannons at the Bible-thumpers denying them their God-given right to whores, an incestuous princess, sugar barons, con men, and Theodore Roosevelt. In examining the 50th State, a place where Manifest Destiny got a sunburn, Vowell finds America again, warts and all. CLICK HERE for discussion topics and Q&A suggestions.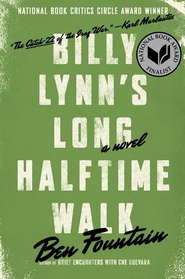 October
Billy Lynn's Long Halftime Walk by Ben Fountain
The PEN/Hemingway Award-winning author, Ben Fountain, brings to life Billy Lynn's Long Halftime Walk. A razor-sharp satire set in Texas during America's war in Iraq that explores the gaping national disconnect between the war at home and the war abroad. Ben Fountain's debut novel follows the surviving members of the heroic Bravo Squad through one exhausting stop in their media-intensive "Victory Tour." Karl Marlantes calls it "The Catch-22 of the Iraq War."  CLICK HERE for discussion topics and Q&A suggestions.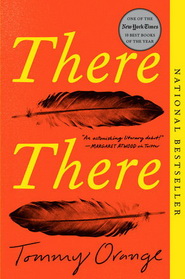 November – Book 1
There, There by Tommy Orange
Tommy Orange's wondrous and shattering novel follows twelve characters from Native communities: all traveling to the Big Oakland Powwow, all connected to one another in ways they may not yet realize. Among them is Jacquie Red Feather, newly sober and trying to make it back to the family she left behind. Dene Oxendene, pulling his life together after his uncle's death and working at the powwow to honor his memory. Fourteen-year-old Orvil, coming to perform a traditional dance for the very first time. Together, this chorus of voices tells of the plight of the urban Native American–grappling with a complex and painful history, with an inheritance of beauty and spirituality, with communion and sacrifice and heroism. Hailed as an instant classic, There, There is at once poignant and unflinching, utterly contemporary and truly unforgettable. CLICK HERE for discussion topics and Q&A suggestions.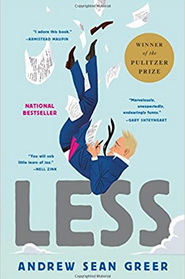 November – Book 2
Less by Andrew Sean Greer
What would possibly go wrong? Arthur Less will almost fall in love in Paris, almost fall to his death in Berlin, barely escape to a Moroccan ski chalet from a Saharan sandstorm, accidentally book himself as the (only) writer-in-residence at a Christian Retreat Center in Southern India, and encounter, on a desert island in the Arabian Sea, the last person on Earth he wants to face. Somewhere in there: he will turn fifty. Through it all, there is his first love. And there is his last. Because, despite all these mishaps, missteps, misunderstandings and mistakes, Less by Andrew Sean Greer is, above all, a love story. A scintillating satire of the American abroad, a rumination on time and the human heart, a bittersweet romance of chances lost, by an author The New York Times has hailed as "inspired, lyrical," "elegiac," "ingenious," as well as "too sappy by half," Less shows a writer at the peak of his talents raising the curtain on our shared human comedy. CLICK HERE for discussion topics and Q&A suggestions.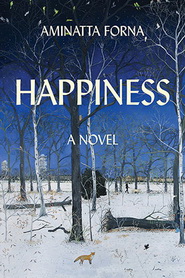 December
Happiness by Aminatta Forna
The overarching message tucked into Scottish and Sierra Leonian writer Forna's (The Hired Man, 2013) quietly resonant novel is this: every living thing is the net sum of its history, and we carry the weight of our past on our shoulders. Atilla, a renowned Ghanian psychiatrist, is ostensibly in London to deliver a keynote speech, but he also has personal motives. He wants to check in on his friends' daughter, who he worries has come unmoored, and ensure that his first love, struck by early-onset Alzheimer's, is comfortable as she prepares to die. In a chance encounter, he meets Jean, an American zoologist who studies urban foxes, and the two cultivate a tenuous relationship. Having specialized in war trauma, Atilla is weighed down by his battle scars and grief and guilt over his wife's early death. Jean is coming to terms with her divorce and a growing distance from her only child. Intricately woven into this tangled web are both the history of urban wild animals and Atilla's experience in war zones, as the story subtly shifts in and out of focus between the past and the present. If at times slightly diffuse, Aminatta Forna's novel is ultimately a mesmerizing tale studded with exquisite writing. CLICK HERE for discussion topics and Q&A suggestions.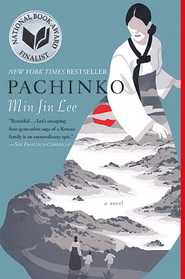 January
Pachinko by Min Jin Lee
Min Jin Lee's Pachinko is a historical novel that follows four generations of a Korean family that migrates to Japan, following a large ensemble of characters who must deal with the legal and social discrimination they face as immigrants. In order to move up in society, the family opens up pachinko parlor, a slot machine-style game popular in Japan, from which the book takes its name. Beautifully written and captivating, Pachinko was named one of the 10 best books of 2017 by The New York Times and was a finalist for the National Book Award in Fiction. CLICK HERE for discussion topics and Q&A suggestions.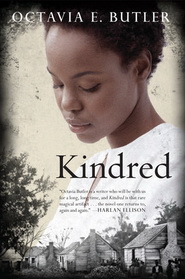 February – Book 1
Kindred by Octavia Butler
Octavia Butler's most celebrated, critically acclaimed work tells the story of Dana, a young black woman who is suddenly and inexplicably transported from her home in 1970s California to the pre–Civil War South. As she time-travels between worlds, one in which she is a free woman and one where she is part of her own complicated familial history on a southern plantation, she becomes frighteningly entangled in the lives of Rufus, a conflicted white slaveholder and one of Dana's own ancestors, and the many people who are enslaved by him.  During numerous such time-defying episodes with the same young man, she realizes the challenge she has been given: to protect this young slaveholder until he can father her own great-grandmother. Author Octavia E. Butler skillfully juxtaposes the serious issues of slavery, human rights, and racial prejudice with an exciting science-fiction, romance, and historical adventure. CLICK HERE for discussion topics and Q&A suggestions.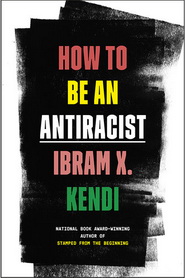 February – Book 2
How to be an Antiracist by Ibrahim Kendi
Ibram X. Kendi's concept of antiracism reenergizes and reshapes the conversation about racial justice in America–but even more fundamentally, points us toward liberating new ways of thinking about ourselves and each other. Instead of working with the policies and system we have in place, Kendi asks us to think about what an antiracist society might look like, and how we can play an active role in building it. In his memoir, Kendi weaves together an electrifying combination of ethics, history, law, and science–including the story of his own awakening to antiracism–bringing it all together in a cogent, accessible form. He begins by helping us rethink our most deeply held, if implicit, beliefs and our most intimate personal relationships (including beliefs about race and IQ and interracial social relations) and reexamines the policies and larger social arrangements we support. How to Be an Antiracist promises to become an essential book for anyone who wants to go beyond an awareness of racism to the next step of contributing to the formation of a truly just and equitable society. CLICK HERE for discussion topics and Q&A suggestions.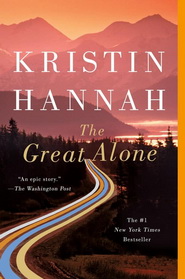 March
The Great Alone by Kristin Hannah
In Kristin Hannah's The Great Alone, a desperate family seeks a new beginning in the near-isolated wilderness of Alaska only to find that their unpredictable environment is less threatening than the erratic behavior found in human nature. CLICK HERE for discussion topics and Q&A suggestions.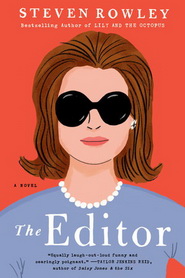 April
The Editor by Steven Rowley
After years of trying to make it as a writer in 1990s New York City, James Smale finally sells his novel to an editor at a major publishing house: none other than Jacqueline Kennedy Onassis. Jackie–or Mrs. Onassis, as she's known in the office–has fallen in love with James's candidly autobiographical novel, one that exposes his own dysfunctional family. But when the book's forthcoming publication threatens to unravel already fragile relationships, both within his family and with his partner, James finds that he can't bring himself to finish the manuscript.  Jackie and James develop an unexpected friendship, and she pushes him to write an authentic ending, encouraging him to head home to confront the truth about his relationship with his mother. Then a long-held family secret is revealed, and he realizes his editor may have had a larger plan that goes beyond the page… CLICK HERE for discussion topics and Q&A suggestions.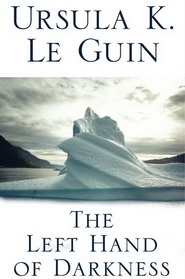 May
The Left Hand of Darkness by Ursula K. LeGuin
Ursula K. Le Guin's groundbreaking work of science fiction—winner of the Hugo and Nebula Awards. A lone human ambassador is sent to the icebound planet of Winter, a world without sexual prejudice, where the inhabitants' gender is fluid. His goal is to facilitate Winter's inclusion in a growing intergalactic civilization. But to do so he must bridge the gulf between his own views and those of the strange, intriguing culture he encounters…  Embracing the aspects of psychology, society, and human emotion on an alien world, The Left Hand of Darkness stands as a landmark achievement in the annals of intellectual science fiction. CLICK HERE for discussion topics and Q&A suggestions.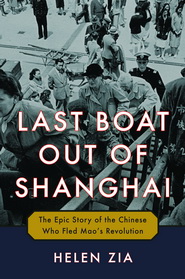 June
Last Boat Out of Shanghai: The Epic Story of the Chinese Who Fled Mao's Revolution by Helen Zia
The dramatic real-life stories of four young people caught up in the mass exodus of Shanghai in the wake of China's 1949 Communist revolution—a heartrending precursor to the struggles faced by emigrants today. Herself the daughter of immigrants from China, Helen Zia is uniquely equipped to explain how crises like the Shanghai transition affect children and their families, students and their futures, and, ultimately, the way we see ourselves and those around us. Last Boat Out of Shanghai brings a poignant personal angle to the experiences of refugees then and, by extension, today. CLICK HERE for discussion topics and Q&A suggestions.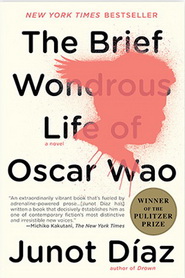 July
The Brief Wondrous life of Oscar Wao by Junot Diaz
Oscar is a sweet but disastrously overweight ghetto nerd who—from the New Jersey home he shares with his old-world mother and rebellious sister—dreams of becoming the Dominican J.R.R. Tolkien and, most of all, finding love. But Oscar may never get what he wants. Blame the fukú—a curse that has haunted Oscar's family for generations, following them on their epic journey from Santo Domingo to the USA. Encapsulating Dominican-American history, The Brief Wondrous Life of Oscar Wao by Junot Diaz opens our eyes to an astonishing vision of the contemporary American experience and explores the endless human capacity to persevere—and risk it all—in the name of love.  CLICK HERE for discussion topics and Q&A suggestions.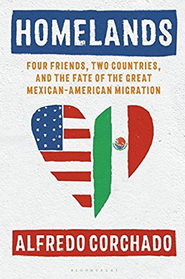 August
Homelands: Four Friends, Two Countries, And The Fate Of The Great Mexican-American Migration By Alfredo Corchado
"Love in the Time of Zero Tolerance" could have been an alternative title for prize-winning journalist Alfredo Corchado's latest book about Mexican immigration to the U.S. over the past four decades. As timely as headlines driven by President Trump's crackdown on immigrants, Homelands is a nuanced history lesson wrapped in Corchado's personal prose about his home country Mexico and his adopted U.S. Homelands explores it all through the tale of four friends. Corchado's love of country, culture and tequila makes the story of Mexican immigration to the U.S., with all its contradictions and imperfections, easy reading and a lasting lesson in migration history. CLICK HERE for discussion topics and Q&A suggestions.